Virtual Home Tours for Each Property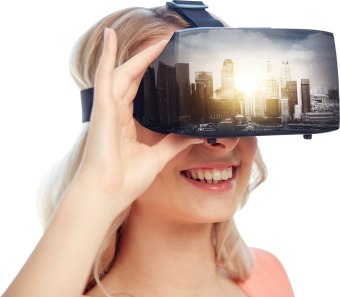 There's one thing real estate agents and property managers want more than anything: fewer actual physical appointments. That's where virtual home tours come into play. You don't have to physically go to the home to check it out, now you can do it from the comfort of your home.
You can scan specific areas of your desired location and check out photos, videos, or a 3D virtual scan of the house. The 3D property walkthrough will save your precious time and provide a more accurate representation of space compared to photos alone.
We offer virtual luxury home tours with an agent if you have more questions about the home. You don't have to be there in person to see the floor plan, the layout and get a feel for the flow of the house. So, if you look for virtual home tours, here is the place. We can organise virtual staging for NFT homes and a 3D showcase for each property.
Buy NFT Homes on Our Metaverse
Are you looking for virtual property for sale? Then you are at the right place. You can buy NFT homes with our software with only several clicks without visiting the place at all. The payments are done instantly because of NFT technology, and you receive full ownership immediately.
This allows you to rent NFT homes and make passive income easily. The virtual home will be a 3D scan of the house so you can move your avatar as you would in a physical tour.
Why should you buy/sell your home as an NFT now?
Saves you time with 3D virtual tours.
Bookkeeping. No one enjoys keeping records, so let the blockchain take care of everything.
Turn on auctioning. If you don't set a price, you risk undervaluing your product. Allow the market to pay a higher price.
Payment is made immediately. Because it's pay or go, there's no messing about with haggling or negotiating.
Virtual Home Design
Have you ever thought of buying a digital home NFT? And have you ever thought of doing it by virtual home tours? Well, now you have that option.
In this portal we have collected a lot of home NFTs which you can review and choose the one you like. There are different virtual home designs made to suit your requests.
Our Team
We are a talented team of young and enthusiastic people from all over the world, giving you the option to buy your NFT home with the option of making virtual home tours . We have expertise in buying and selling real estate properties and NFT homes, so you can rely on us for advice on any topic.
Should you need any assistance, please contact us.
Frequently Asked Questions
Here are some of the most frequently asked questions regarding NFT homes:
NFTs are unique assets in the digital world that can be exchanged like any other commercial good, while constituting a virtual, non-tangible item which could be thought of as some sort of software. NFTs can also be digital certificates of ownership, much like deeds or any other signed document.
🏠️ Can you buy physical homes as an NFT?
While we already have the historical record for such a transaction, it is more of a pioneering landmark than a trendsetter. It's going to be a long journey before we see any sort of mass adoption of NFT sales of physical homes, as that would require a lot of regulatory work and extensive testing.
🏢️ Can I sell my house as an NFT?
For now, you are able to make and sell a digital copy of your home as a 3D visualisation of art value on NFT marketplaces or as an asset in the metaverse. More options will become available soon.
🏗️️ How to sell my house as an NFT?
If you intend to sell a digital copy or digital enhancement of your house, you should select a proper NFT marketplace. Once you have the 3D visualisation prepared, you should look for an NFT app to mint an NFT of it and then upload it to the marketplace. The only thing remaining is to leverage your pricing according to consumer demand.
🏛️️ Can I use my home NFT as a collateral?
In general terms that may not be feasible in conventional terms, as the price of an NFT is hard to predict or compare, unlike the price of a physical home. However, you may use our pricing tool to guide you if you would like an idea of its value.
🏘️️ What is an NFT house?
NFT house could mean either a physical house with an NFT minted copy or a digital NFT asset in the form of a 3D digital copy of your house, or the same with a specific place on the map of a metaverse.
NFT land is a virtual asset in some metaverses which sell virtual real estate along other virtual items of trade such as apparel or avatars. Virtual land is supposed to be a matter of transactions not much different from those of physical land.
🏚️️ What does NFT mean in real estate?
NFTs, albeit a new-born phenomenon, reveal a number of exciting opportunities for the real estate trade and we cannot even imagine what more may spring up over the course of time. Currently, you can have NFTs for virtual real estate on metaverses and there are some thrilling projects in development such as NFTs for fractional investing.
🏨️ Can I turn my house into an NFT?
NFTs can be minted for any digital representation of your house, for either digital art or real estate sales promotion purposes. It is not impossible to make an NFT for your house in its material form, but the implications are less at this stage.
Contact us
Get in touch with us - we love hearing from the NFT homes community. We are happy to assist with anything, create potential partnerships, and receive feedback. Simply write us and we'll get back to you soon.
Contact Us Here!